Corporate Identity is the image that you present throughout your marketing and public image. This Identity should be consistent throughout all your public facing communications.
This Identity and its consistency helps to create your corporate persona, and identifies who you are, and what you do to your customers, clients, and prospects. In general your identity is the recognizable imagery that identifies your image to the public.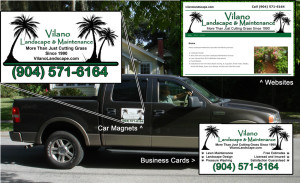 Recently, PromoSta helped Vilano Landscape create and implement a consistent corporate identity throughout a series of marketing channels.
We helped them to develop a vehicle logo that identifies the brand and provides contact information, allowing residents in the neighborhoods to know who is providing lawn care at their neighbor's house.
Afterward we developed a consistent image into business cards that also identify the company, its image, and what they do.
Coming soon their website is coming online to provide in depth information on the lawn care services, maintenance and landscaping design. Additionally, clients will be able to request quotes, and order services through the website allowing the company to expand their services through the internet.
Is your corporate identity consistent throughout your marketing materials? Do people know who you are when they are holding your business card in one hand and viewing your website? If your corporate identity could use and overhaul contact PromoSta and let's discuss how we can improve your image and consistency.